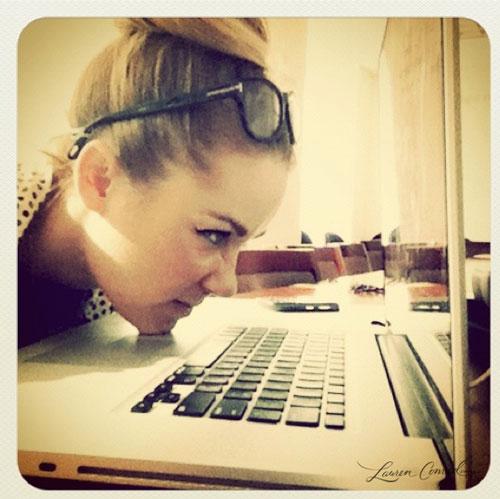 I get a lot of questions about what it's like to write a book. And while I'd like to tell you that it is all fun and games (as you will see, some of it is), I'd be lying if I said it wasn't a lot of self-discipline and just plain hard work. Let's just say that is a process that is not for the faint of heart. That said, I am fortunate to have a really fantastic editor who keeps me on track… Since my next two (!!!) books will both be released on the same day, Starstruck: A Fame Game Novel and Lauren Conrad Beauty, I thought it might be fun to give you guys a glimpse into my life while I was working on these two books…
Putting it All Together
I like to write at night when my cellphone isn't ringing, my roommates are asleep and all is quiet. I always start with a detailed outline and then flesh out the story I want to tell from there. Once I share this outline with my editor, I begin writing… My favorite part. To be honest, the hardest part about writing is staying on schedule. Writing isn't my full-time job so it usually gets pushed to the side by work-related commitments with Paper Crown, my website, or Kohl's photo shoots and design meetings. (Full disclosure–I've had to ask for deadline extensions on more than one occasion.) Once the manuscript is complete, my editor will make revisions. From this point forward, my editor and I work very closely together to edit and fine-tune the story until we are both happy with the final draft. This is called "the editing process." It's definitely one of the most grueling parts of writing a book…
The Editing Process
When my editor, Farrin, and I were editing Starstruck we stayed up past 3 am working away, burning the midnight oil. As you can imagine, I went a little stir crazy after being locked up in the same room for hours on end. Farrin wanted to kick my butt because we were working on a chapter that mentioned Jane Fonda and I kept playing that Mickey Avalon song called "Jane Fonda." Let's just say that Farrin did not want to do the Jane Fonda… But to be honest, I was really just trying to stay awake at this point. Sometimes you have to make lemonade when you're stuck with lemons 🙂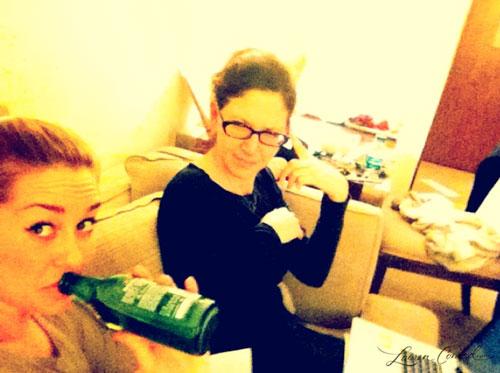 During another never-ending editing session, I ended up sitting on my eyeglasses. Not a good thing for editing. I decided to put my MacGyver skills to work so they would at least stay on my head while I was working. This was the best I could do: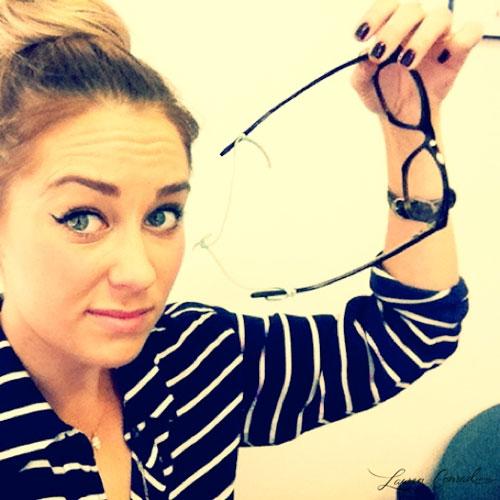 On my birthday, we were working on Lauren Conrad Beauty. We had to work all day and night…so I did what any logical birthday girl would do and ate cake for every meal. Thankfully Farrin followed suit too…cake binging is always best when you have a partner in crime, right?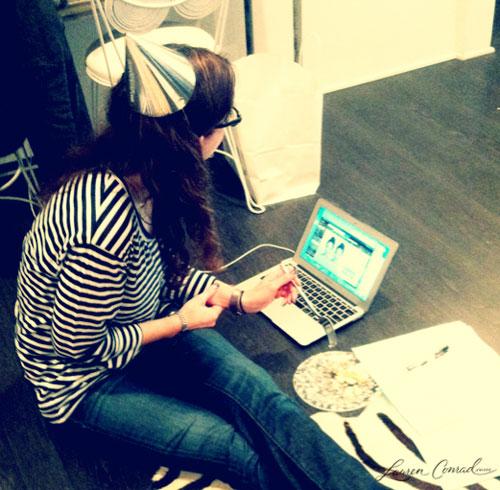 …and then I got stir crazy again and popped some champagne. It was a birthday gift! Wouldn't you do the same?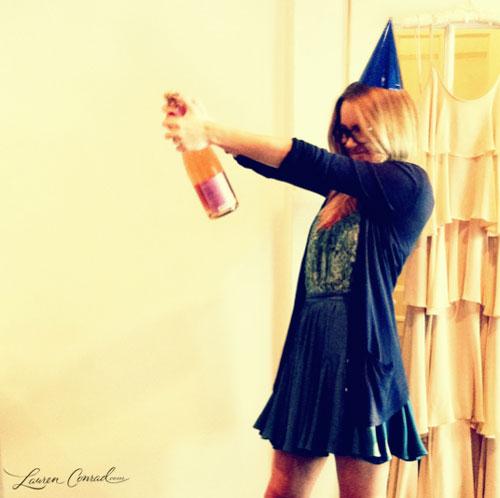 Finally, after hours upon hours of work, we finished the Lauren Conrad Beauty edits. This is another one of my favorite parts of the process…finishing!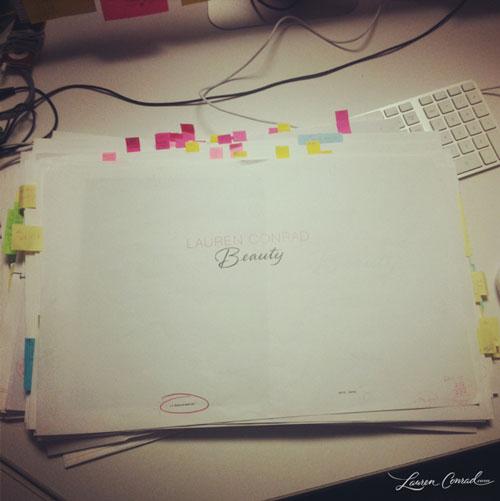 I'm really excited for all of you to read my new books. Especially because they were truly a labor of love (as evidenced above).
Both Startstruck and Lauren Conrad Beauty will hit stores on October 16th, 2012. Get excited 🙂 I can't wait for you guys to read them…
Do you have any other questions about the writing process? Let me know in the comments below!
Also, if you'd like to see more of these types of blogs, let me know about that too.
XO Lauren
You might also like…
My Official Book Tour: Starstruck & Lauren Conrad Beauty
Book Club: Our Next Book Is…
Chic Peek: My BEAUTY Book Cover
Book Club: The Fame Game Q&A
Photo: Lauren Conrad