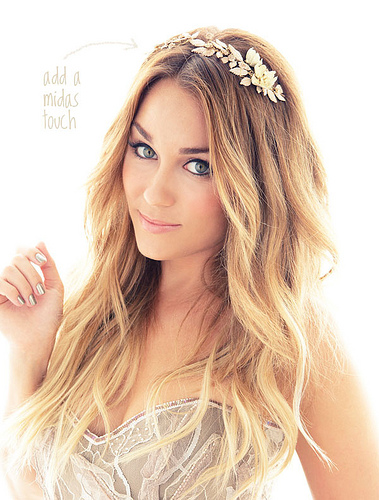 Seeing as the Olympics are in full swing I thought it might be fun to do a blog inspired by the games–particularly those covetable golden medals. Since summer is winding down, it's time to start thinking transitionally. One of my favorite accents to wear this time of year is gold. I like to sprinkle it into my looks by adding a gilded hairpiece or glossing my nails with a sparkly golden polish. It's a finish that works well for both summer and fall, which is why it is such a lovely, transitional choice for this time of year.
All you need is a little pop of sparkle to make an otherwise simple outfit truly shine. Whether it's the line of an eye, the glow of a sun kissed cheek, the sparkle of an unexpected barrette or the gleam of a golden nail, adding a Midas touch is never a bad idea…
Are you going for the gold?
Let me know how you incorporate it into your beauty look in the comments below. Extra credit for those of you who upload a photo to your profile page and share the link below. (Who knows…you could be our next Chic of the Week!)
XO Lauren
P.S. Out of curiosity, what's your favorite event to watch during the summer Olympics? I love gymnastics and diving 🙂
You might also like…
Crafty Creations: Washer Bracelets
Beauty Faux Pas: How to Fix a Bad Fake Tan
Primp Tip: The Smart Girl's Guide to Shaving
Beauty Note: Peachy Keen