I'm so thrilled about my new XO(eco) collection that's now available on Amazon.com. (When you check out the brandstore, you will see items for lunch, beauty, as well as shopping and travel.) As you might already know, most of the line is made from 50% post-consumer recycled bottle fabric from Repreve. I love the idea of giving new life to plastic bottles. Anyway, today I thought it would be fun to spotlight 10 products from my line that I am especially fond of… Keep in mind that everything is available in two print options: tuxedo stripe or whimsical bird print.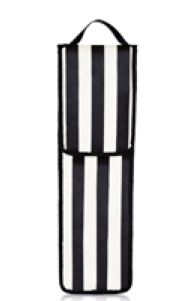 Hot Iron Cover: So excited about this one. It is an eco-friendly holder for hot curling and flat irons. I really love this product because it was designed to store hot irons directly after use. (I've been known to throw my irons into the freezer when I am in a rush to pack them up… My roommates have always found this amusing.) ~ Recycles about 3 plastic bottles.

Beauty Kit: This eco-friendly 3-piece travel and beauty kit is a must-have for travel. It offers three distinct areas to organize beauty items while you travel including: 2 novel removable TSA-compliant, clear reusable (re)zip bags for cosmetics, toothpaste, or shampoo and a mesh pouch for brushes, combs, and rubber bands. Pretty sweet. ~ Recycles about 6 plastic bottles.

Brush Box: I don't know about you but no matter how hard I try, the insides of my makeup bags always get dirty. That's why I love this beauty bag…it's big enough to store all of my powder and foundation as well as my eyeshadows, glosses and even tweezers. It's washable, non-toxic and easy to clean. ~ Recycles about 3 plastic bottles.

Beauty Pak: The Beauty Pak includes a Brush Box along with a matching, smaller beauty clutch that can be thrown into your purse. I love this duo because I keep all of my makeup in the Brush Box and then throw my touch up "purse" makeup into the smaller bag to keep with me in my purse or tote bag. This is especially great when you're traveling because you can pack away all your extra makeup and keep the essentials with you too. ~ Recycles about 5 plastic bottles.

Jewelry Roll: I already put my jewelry roll to good use. Perfect for packing away all of your favorite pieces of flair including rings, earrings, bracelets and necklaces. ~ Recycles about 4 plastic bottles.

Weekender: This oversized tote is the perfect travel companion for the girl on the go. I like to pack my clothes, makeup and shoes in this bag for little weekend jaunts or overnight outings. ~ Recycles about 24 plastic bottles.

Shopper: I cannot tell you how often I use this. No need to waste a paper or plastic bag again. This collapsible bag is ideal for shopping, grocery, or travel. It's especially convenient because the bag easily folds into a zippered wallet size to throw in your purse and holds up to 20 pounds. This is one of the best ways to shop responsibly. ~ Recycles about 7 plastic bottles.

Lunch Kit: This 3 piece kit comes with a satchel style tote that offers a fashionable and sustainable way to bring your lunch to school or the office. The kit includes 2 handy reusable (re)zips to replace those pesky disposable plastic baggies along with a tumbler. I really love tumblers with a straw because it makes drinking water throughout the day much easier. ~ Recycles about 3 plastic bottles.

Laptop Bag: I bring my laptop with me everywhere. That way I can always sneak in some extra writing when I have time. It's padded to provide extra protection and easy to carry. This will be available for purchase in August on BlueAvocado.com. Perfect for back to school or work! ~ Recycles about 15 plastic bottles.

(re)zip Snack Packs: Think about how many plastic baggies you mindlessly throw away throughout the year… It's probably a LOT. That said, one simple way to make your packing (or snacking) habits more eco is to use reusable baggies like these (re)zip Snack Packs. I use them to pack up everything from snacks, makeup, change, or even my phone and sunscreen when I am headed to the beach. If anything, I really encourage all of you to give these a try.

Which XO(eco) item are you most excited about? Let me know in the comments below!
To check out the rest of my XO(eco) collection by BlueAvocado, click here!
XO Lauren
P.S. Pin your favorite product listed about with the hashtag #LCxoECO to let me know which one you love!
You might also like…
Fash Favorites: Designed by Lauren Conrad
Friday Favorites
Ladylike Laws: How to Hold Your Drinks
Fitness Favorite: Fun Summer Workouts