The Fourth of July is only a couple days away. And if you're like me, you're probably not thrilled that it happens to fall on a Wednesday this year. Bummer. Needless to say, it's still going to be a great day to soak up some sunshine (responsibly) and enjoy a day off with your favorite people. Since I won't have time to prepare any extravagant treats this year, I thought I'd put together a few simple and straightforward ideas that can be made on the fly.
Here are three festive sweet treats to try this 4th of July holiday… Recipes and photos courtesy of yours truly!
Nutella Berry Crunch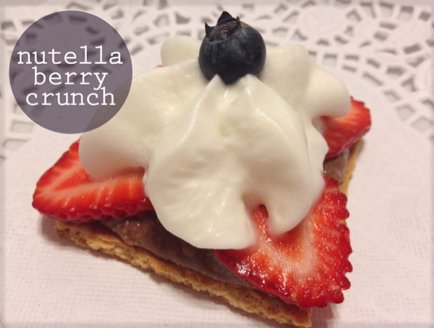 First off, who doesn't love Nutella? It's one of those amazing spreads that you really have no business buying unless you're in the market for something decadent. And that's just what these little heavenly crackers are–enticingly indulgent, delicious, easy to construct, and oh-so-delicious.
Ingredients
1 cup Nonfat Ricotta Cheese
2 heaping tablespoons Nutella
14 graham crackers, split in half (squares)
4 cups strawberries, thinly sliced
28 blueberries
whipped cream
Directions
In a small bowl, mix together ricotta and Nutella until smooth.
Spread ricotta-Nutella mixture over each graham cracker.
Place 4 strawberry slices on each cracker.
Top with whipped cream or your favorite whipped topping such as Cool Whip.
Finish off with a blueberry and enjoy!
Berry Bites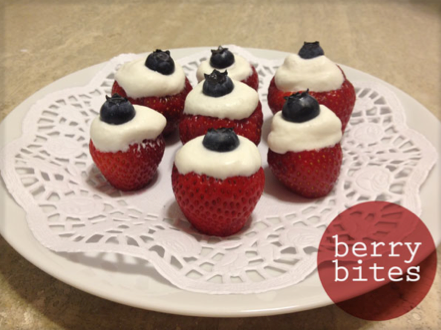 Each bite is approximately 35 calories and is sure to hit the spot. They're incredibly simple to make and are total crowd pleasers too. Plus, they're just plain cute.
Ingredients
Strawberries, hollowed with the tip cut off
Nonfat whipped topping (I used Cool Whip)
Blueberries
Directions
Scoop about 1 tablespoon of whipped goodness into each strawberry.
Top off each strawberry with a single blueberry.
Enjoy!
Patriot Pops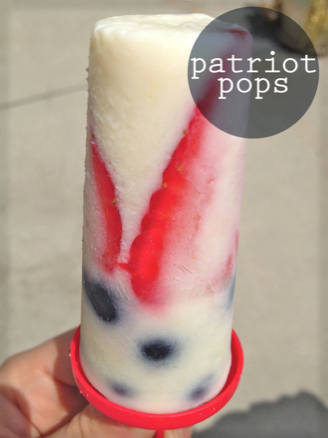 This is one of my favorite treats. You can easily make these the night before your party. Otherwise, give yourself at least four hours to let them freeze. Either way, they're very easy to make, they're only 45 calories, and last but certainly not least–they're beyond yummy!
Ingredients
1 cup low fat cottage cheese
1 cup plain Greek yogurt
2 cups coconut milk
2 tablespoons agave nectar or honey
2 cups strawberries, thinly sliced
1 cup blueberries
Directions
Blend together cottage cheese, yogurt, coconut milk and agave nectar or honey until smooth.
Place berries around the perimeter of each popsicle mold. (I put about 6 blueberries and 2 strawberry slices in for each pop.)
Pour in mixture from step #1 until each pop mold is full.
Freeze overnight or for about 3-4 hours until solid.
Enjoy!
Which Fourth of July treat are you going to try? If you have a great patriotic dish to share, be sure to post the recipe in the comments below.
Need some party decor inspiration! Check out this fabulous Guest Blog that's filled with fun and festive ideas and treats.
XO Lauren
P.S. Be sure to check out my 5-minute recipe for Sprinkles on a Stick too. They're festive, fun and they're great for kids, adults–everyone!
You might also like…
Celebrate: Fourth of July Party Spread
Style Guide: Fourth of July Fashion
Lovely Libations: Pink Grapefruit Margarita
Tuesday Ten: Creative Cocktails