Okay okay, we know it's bikini season, but sometimes a girl just needs something sweet…with a LOT of chocolate. For us, one of our favorite ways to end a stressful day is to reward ourselves with a little something sweet. That reward can mean kicking back and enjoying our favorite TV shows, going out with friends, or indulging in a truly decadent dessert. (Hey sometimes us girls just needs something sweet!) But no matter what it ends up being, we always feel instantly happier. Speaking of decadent desserts, this melt-in-your-mouth recipe has "reward" written all over it! Amy Breckenridge's salted caramel chocolate chip cookie bars have made the top of our must-make recipe list (especially if it's that lovely time of the month). Amy describes them as a "delicious mix of salty and sweet." Check out the photo below… Is your mouth watering yet?
Here's how you can whip up Amy's delicious treat when that "reward" is calling…
Salted Caramel Chocolate Chip Cookie Bars

Serves 16
Prep Time: 20 minutes
Cook Time: 30 minutes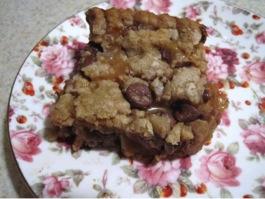 Ingredients:
2 1/8 cups of all purpose flour
1/2 tsp. of baking soda
1/2 tsp. of salt
12 tbsp. of unsalted butter, melted then cooled to room temperature
1 cup of light brown sugar
1/2 cup(s) of sugar
1 egg
1 egg yolk
2 tsp. of vanilla extract
2 cups of chocolate chips
10 ounces of Kraft caramel squares
3 tbsp. of heavy cream
Sea salt for sprinkling
Steps
Preheat oven to 325 degrees F. Grease a 9-inch square pan; set aside.
In a medium bowl, whisk together the flour, baking soda, and salt; set aside.
In the bowl of your standing mixer, beat the melted butter and sugars on medium speed until combined.
Add the egg, egg yolk, and vanilla extract and mix until smooth.
Slowly add the dry ingredients and mix on low, just until combined. Stir in the chocolate chips.
In a medium microwave-safe bowl, combine the caramels and heavy cream. Microwave on high until the caramels are melted, stirring every 30 seconds. This will take about 2-3 minutes.
Press half of the cookie dough into the pan, smoothing the top with a spatula or the back of a spoon. Pour the hot caramel over the dough cookie dough and spread into an even layer, leaving some empty space around the edges. Sprinkle the caramel lightly with the sea salt. Drop the remaining cookie dough in spoonfuls over the caramel and gently spread the dough with a spatula until the caramel is covered. Sprinkle the bars with additional sea salt (optional.)
Bake the cookie bars for 30 minutes, or until the tops of the bars are light golden brown and the edges start to pull away from the pan.
Cool the bars on a wire rack to room temperature, then refrigerate for about 30 minutes to allow the caramel layer to set. Cut into squares and serve.
Store leftovers in an airtight container at room temperature.
Thanks Amy for sharing this yummy recipe! For more details about this recipe, click here.
Are you going to try Amy's recipe?
We definitely are…
Also, don't forget to share your favorite recipes and snap photos of your kitchen creations by submitting them to the Gallery! Click here to learn how.
XO Team LaurenConrad.com
You might also like…
Sweet Tooth: Corona Cupcakes
Odds & Ends: How to Boil an Egg
Good Eats: Yogurt Kisses

Photo: LaurenConrad.com