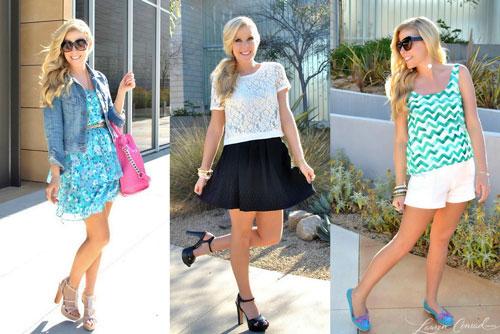 Thanks to the endless array of fashion forward romantic comedies and Lifetime's cinematic gems, finding the elusive "one" has never looked easier or on trend. Unfortunately in real life not everyone gets a stylist to help conjure up the ideal date night look, thus leaving us filled with more worry, than excitement. To save yourself from staring blankly into your closet for hours in a "What do I wear?" coma, I suggest creating a mental catalog of several date worthy ensembles. If we've learned one thing from Hollywood, it's that dancing around, while curling your hair and spritzing on perfume in the hours leading up to your date is way more fun than wandering frantically through a department store. A good dating rule of thumb is to always try to keep your ensembles simple and comfortable; you never want to be thinking about your outfit during your date. When it comes to hair and makeup keep it simple as well. Too much blush or bronzer could be a total turnoff to your potential beau. When it comes to first dates remember to avoid items like skinny jeans and blazers. These fashion lover staples can sometimes give off a harsh and unapproachable appearance that could be intimidating to your date.
Surprise Date

As fun and exciting as "surprise" dates are, determining what to wear can be a super daunting task, especially when your guy won't give you a clue what the night holds. When the unknown date presents itself, I always say go with a fun dress, like this floral tiered LC Lauren Conrad dress. Once you've got the perfect dress, it's all about key transitional pieces. A denim jacket can instantly dress down your look if needed, while offering warmth for cool evening breezes. And a handbag big enough to hide a pair of heels or flats, is always a smart idea so you have appropriate footwear on hand.
Lunch Date


For a lunch date you want to keep your look comfy and casual with an effortless feel. Overdressing for an afternoon bite to eat can give the appearance that you have extremely high expectations, leaving your date feeling like he under delivered. Stray away from denim and go with something with a resort chic vibe like white shorts and a trendy chevron striped blouse. Keep the shoes comfy and low maintenance with a fun pair of colorful spring loafers.

Dinner Date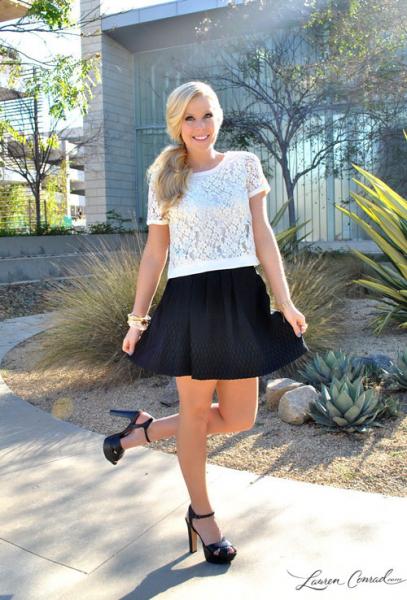 When it comes to dinner dates, a dress is always a safe bet, but for a few extra fashion points, I always suggest a classic skirt with a great detailed top. Keep in mind that you'll be sitting across the table from your date, so wearing a texturally intriguing top, like this LC Lauren Conrad Lace Crop Top, will keep you looking stylish even when you're half hidden by the table. If you're someone who tends to play with your hair, be sure to pull it back so that you're not nervously fidgeting with it throughout the meal. When it comes to jewelry, keep it simple and stylish with a stunning pair of teardrop earring and an elegant beaded bracelet. Impressionable footwear is a must for this occasion, so wear something striking, but comfortable. If you're not a sky high stiletto girl try rocking an embellished flat.


What is the best date you've ever been on and what did you wear for the occasion?
For more outfit inspiration check out my Sequins Trend Report ideal for a fancy night out and my Spring Cardigans post perfect for a dressy lunch date or dinner.
xoxo
Anna
Fash Boulevard
You might also like…
How To Wear: Summer Neutrals
Color Code: How to Mix & Match
How To: Find the Perfect Skirt for Your Body
How To Wear: Midi Skirts