Cutouts sometimes get a bad rap. And understandably so. When worn with 7-inch Lucite heels and a zebra print micro skirt, there's nothing chic about them. However, when done right, I really love the trend. I particularly love cutouts in unexpected places such as the collarbone area, the shoulders, at the hips of a modest dress or the back of a pretty tunic. In fact, cutouts were a noteworthy trend on the Spring 2012 runways. Designers including Stella McCartney, Proenza Schouler and Roland Mouret featured the scissor happy statement on their catwalks solidifying the piecemeal look as a key trend for 2012.
Without further ado, here are a few of my favorite cutout options…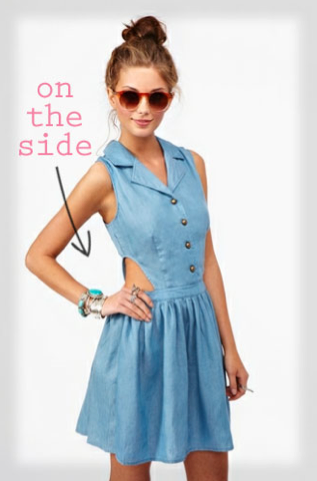 A cutout at the hip is demure yet incredibly sexy in a very understated way. I love how unexpected it is on this chambray dress.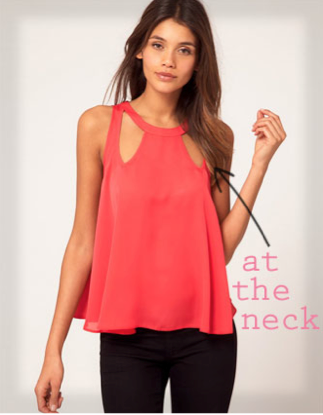 A sliced up neckline is a simple way to embrace this trend without going too far out of your comfort zone. This coral cutout swing top is the perfect summer staple for a night out on the town with friends or even a business meeting when paired with a relaxed linen blazer.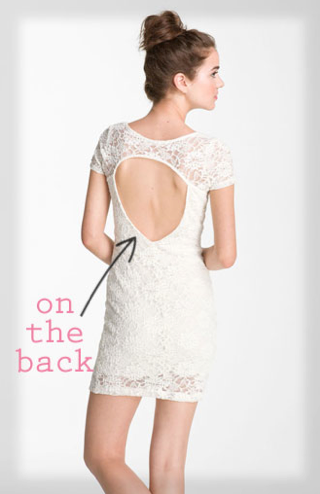 Last but not least, my favorite unexpected cutout is on the back. Make your exit as memorable as your entrance with a dress or blouse with a cutout back. I think this lace cutout mini is perfect for work or play.
Are you going to give this trend a try?
XO Lauren
You might also like…
Fall In Love With… Cold Shoulders
Style Guide: Summer Work Attire
Tuesday Ten: Old Trends Die Hard
Color Code: How to Mix and Match