This story is from our partner, FabSugar! Twice a month we'll share FabSugar's best fashion tips and shopping guides. Today's post teaches you how to wash your swimwear the right way written by Marisa Tom of FabSugar:
5 No-Fail Ways to Keep Your Suit in Tip-Top Summer Shape
Now that you've found the summer suit of your dreams, let's keep the swimwear honeymoon alive. Translation: abide by these five no-fail tips and your beach-ready bikini will keep its shape, won't reek of pool chlorine, and will not fall victim to weird sunscreen-induced discoloration. When the water is calling our name, we know just how easy it is to put our swimsuits through the ringer, but this summer, we promise: keeping your swimwear in tip-top shape has never been simpler. Keep reading for our holy grail of swimsuit care rules below.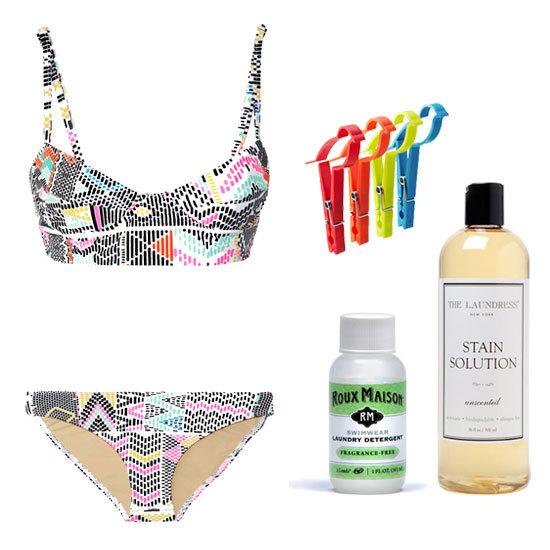 Anticipate the wear and tear. Chlorine weakens synthetic and polyester fabrics and can break down a suit's elasticity. Not to mention, products like sunscreen and deodorant can discolor and stain your bikini after a couple trips to the water. To minimize the earlier signs of your beach-bunny habits, pretreat your swimsuit with a gentle stain solution soak. We're currently loving The Laundress Stain Solution ($18) because it's a triple threat: nontoxic, biodegradable, and allergen-free.
There are four more no-fail tips you need to take note of.
Rinse off your suit stat. As soon as you're done frolicking in the waves, basking in the sun, or dominating in a friendly cannonball contest, switch into your swim gear and wash away the day's waterlogged activities. Be forewarned: water won't cut it. But first thing's first: get yourself situated in a breezy-chic maxidress, then head to step three.
Get your hands dirty (read: handwash). To make sure your swimwear doesn't succumb to the surf, sand, and sunscreen you've been indulging in, you need to go the extra mile with a little handwashing TLC. Wash your swimsuit under cool water with a gentle detergent (think lingerie-strength), like Woolite ($7) or this handy, travel-sized three-pack iteration from Roux Maison ($15).
Check out the Look of the Day: A Pop of Mustard
Roll – don't twist and ring. It may be easier to twist out the water from your swimsuit, but trust us, if you want this suit to make it to summer's end, roll it out. The more you ring your wares, the more you risk stressing out the elastic fibers prematurely. The last thing you want is a serious skin-baring snafu at the beach.
The dryer is not your friend. Just say "no" to the dryer. Air-dry your swimsuit the old-fashioned way: hang it on a clothing line with supercute bird-shaped clothespins ($4), lie it flat, or improvise – a hanger and shower rod will do the trick too. If you do hang-dry your suit outside, then avoid placing it in direct sunlight to prevent any potential color fade.
Do you have any other tips for keeping your suit in shipshape?
XO Team LaurenConrad.com
More fab stories from FabSugar…
The Shorts Circuit: Shop 20 Fresh Pairs of Shorts For Summer
Code Red: 10 Ways to Pull Off Bold Bottoms
10 Luxe-Feeling Summer Finds on Sale For Under $100
15 Weekend-Ready Looks to Inspire Your Own Off-Duty Whimsy