It's no surprise that I have a true weakness for classic, ladylike trends when it comes to curating my closet. While you may remember that my spring style cravings included pretty peplums and flirty ruffles, my newest summer obsessions are just as feminine, but a little more lightweight for this sunny season. This summer, eyelets have caught my eye and espadrilles have my soles positively smitten.
Pairing eyelets and espadrilles together is a perfect duo for almost any summertime occasion. Even major designers like Louis Vuitton and Vera Wang incorporated oversized, exaggerated eyelets into their spring 2012 runway collections. If you need a refresher on what "eyelet" is exactly, the fabric is characterized by small round holes or shapes edged with embroidered stiches. Personally, I love eyelet because it's a versatile design that can be instantly updated with a fresh new shape and fit.
Not only does this pretty, lightweight material look great on it's own, it really pops when worn with the right shoes…like espadrilles! Espadrilles have a history that goes back farther than you may think. It's estimated that espadrilles–which are made out of rope and fabric–are around 4000 years old! Now that is old. In my opinion, the trend has stuck around for thousands of years because the soles of the shoes are so comfortable (they basically mold to your foot). The lightweight fabric also allows your feet to breathe in warm weather, which makes them perfect staples for summer.
It's not often that two great trends can be combined to create one stellar look. But eyelets and espadrilles are both beachy and breezy enough to wear as a pair. I love eyelet dresses, skirts and shirts because the fabric is so easy to pair with other pieces and accessories. I like to wear this eyelet top my LC Lauren Conrad collection with khaki, cuffed shorts during the day or rolled-up skinny jeans at night. For espadrilles, I prefer styles that have heels or wedges to add length to my legs. But flats are also a classic and comfortable choice. Whichever way you choose to style these two summer trends, both pieces will look so effortlessly chic that you really can't go wrong.
Here are my favorite eyelet & espadrille finds…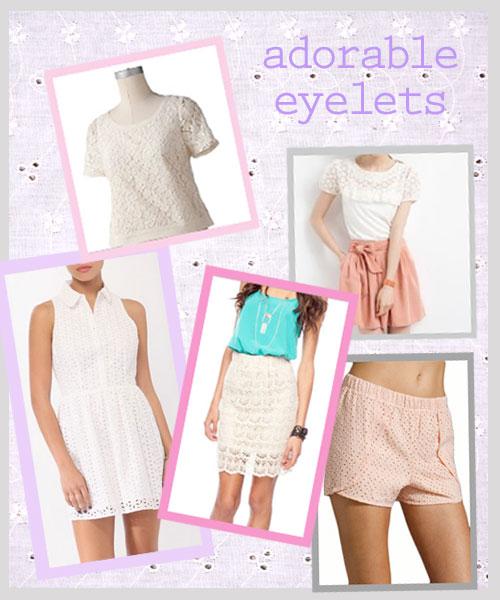 What do you think about pairing eyelets and espadrilles together? Will you try it this summer?
XO Lauren
You might also like…
Fall in Love With… Cutouts
Chic of the Week: Emily's Effortless Style
Summer Style Staple: Playsuits
Style Guide: Summer Work Attire