Here at Team LaurenConrad.com, we love a great DIY project in any shape or form. And the DIY that we're especially crushing on today happens to come in the form of a dress made by one of our very own LaurenConrad.com members! This crafty Chic doesn't need to spend her way to great style…she makes it happen with her own two hands. Danika G, we are so impressed with your textile talents–and so, we choose you for our Chic of the Week!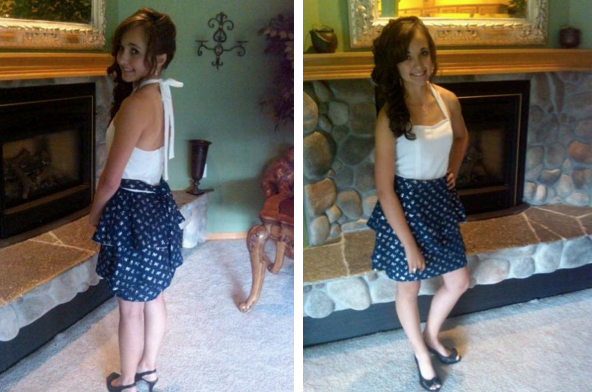 When we came across Dankia's design, we knew immediately that it was Chic material, but what made us look even closer was the description underneath her photo. Danika explained how she hand-made this dress with the help of her Grandma. If that isn't the cutest way to add a special touch to your style, then we don't know what is! This DIY dress also looks cute too with its white halter bodice and ruffled peplum skirt. The navy blue fabric even has a little sparkle to it, which we think is the icing on the cake.
Congrats, Danika–you are our Chic of the Week!
What do you think about Danika's DIY dress? Have you ever worn something you made yourself? If so, upload a photograph and share, share, share ladies!
XO Team LaurenConrad.com
P.S. For more crafty ideas, check out the DIY section of LaurenConrad.com.
You might also like…
Sweet Tooth: Amy's Salted Caramel Chocolate Chip Cookie Bars
Summer Style Staple: Playsuits
Friday Favorites
Fall in Love With… Cutouts