In true sartorial nature, this week's Chic has the concept of "street style" down to a science. After we saw her effortless ability to dress for the city, there was no doubt in our minds that this style bug should be spotlighted this week. Annette V, you've won our seal of approval for Chic of the Week!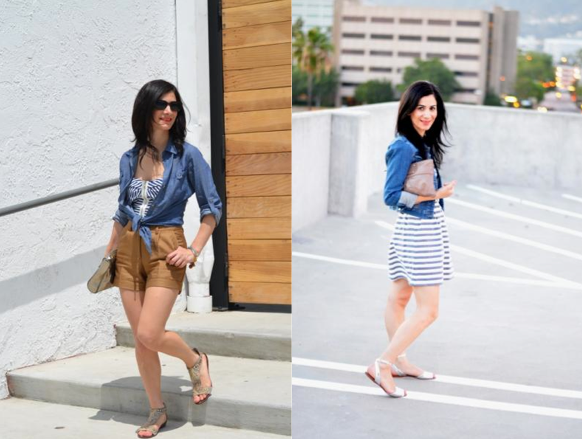 Annette's style is a great mix of comfy, casual, and classic–ideal for a summer day in the city. Not only does she gracefully pair a chambray denim shirt with cuffed khaki shorts, she's also right on-trend with her blue jean jacket and striped summer sundress. Don't think we overlooked her accessories! Annette's cute sandals are a seasonal staple, and we love how she chose to carry compact clutches to keep things light and fuss-free. Congratulations Annette! With classy street style like yours, we're honored to call you our Chic of the Week!
What do you think about Annette's street style?
Happy Friday!
XO Team LaurenConrad.com
P.S. Don't forget to snap a pic and upload it to your profile for a chance to be featured as Chic of the Week! (And HAPPY Friday the 13th loves!)
You might also like…
Style Guide: Summer Work Attire
Tuesday Ten: Candy Coated Beauty
Chic of the Week: Michelle's Dressy Denim
How To Wear: Printed Pants