Hey everyone! Team LC here. We are so excited to share this Guest Blog with you from LaurenConrad.com member (and crafter-cook extraordinaire) Kristi Murphy who runs an fabulous blog called Saucy Pants. Kristi was cool enough to share her post with us today for all of you to enjoy. There are some really fantastic ideas here and we are thrilled to share it with you guys… Read on, enjoy, and get ready to be VERY inspired!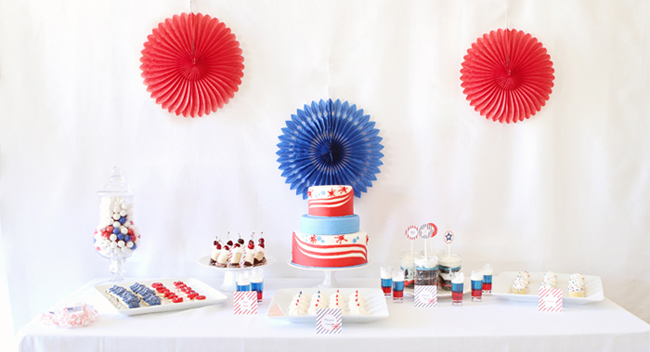 Hi everyone, it's Kristi. I can't believe 4th of July is already upon us! June went way too fast! So, this 4th of July party spread was inspired by clean lines and of course the ubiquitous red, white, and blue. My fabulous friend, Shannon of Riso Studio, captured all of the details! Isn't she amazing?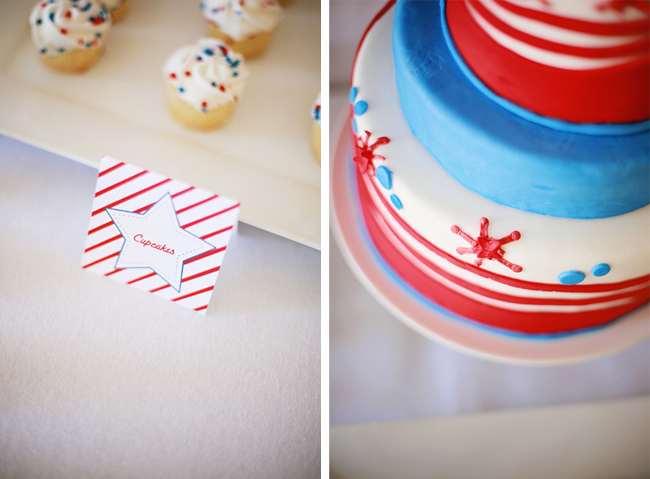 We started off by creating our printable collection. Again this was inspired by clean lines and a Patriotic feel. This gorgeous cake was made by our friend Christa Quiroz, who bakes cakes out of her home. My bet is she will soon need to move to a large commercial kitchen by the looks and taste of her work! This cake was inspired by a cake she saw on Pinterest!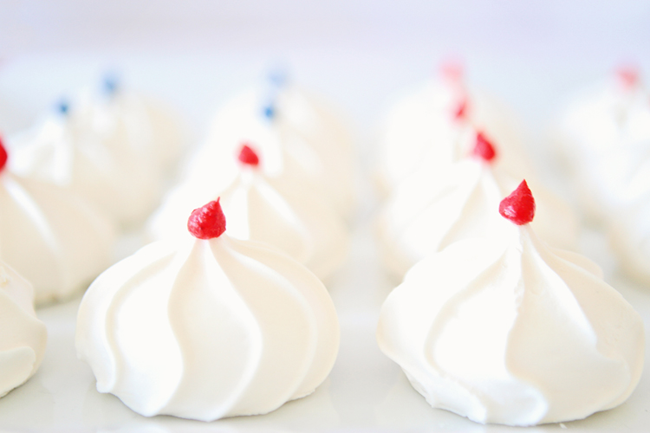 These are meringue or "forgotten" cookies from my soon-to-be mother-in-law. They are delish and oh so easy! They can be called "forgotten" cookies because you literally sit them in the oven overnight and wake up in the morning and they are done! CLICK HERE for the recipe!


We stacked red, white, and blue whoopie pies in a jar and topped them with homemade whipped cream and our printable cupcake toppers!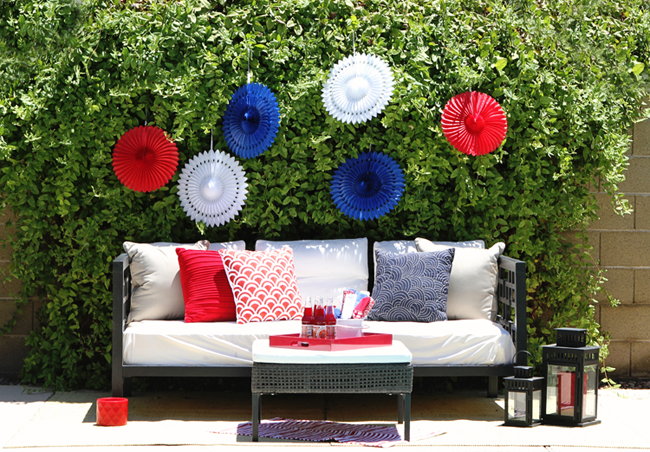 I don't know about you, but we usually entertain outside for the 4th of July! Outdoor daybeds work great for outdoor entertaining. They are more comfortable than your average outdoor furniture pieces. I picked up this daybed a long time ago from West Elm. It was actually an indoor daybed that I turned into an outdoor daybed. The fabulous red hanging paper flowers are from the adorable Petite Party Studio here in town, which the talented Fresh Chicks Design duo just opened. The hanging blue and white medallions are from Party City … hush hush! The pillows, candles, cutlery tin, and rug are from "Old Faithful" aka Target. I picked this chic tray up from West Elm, and the lanterns are from my other "Old Faithful," IKEA.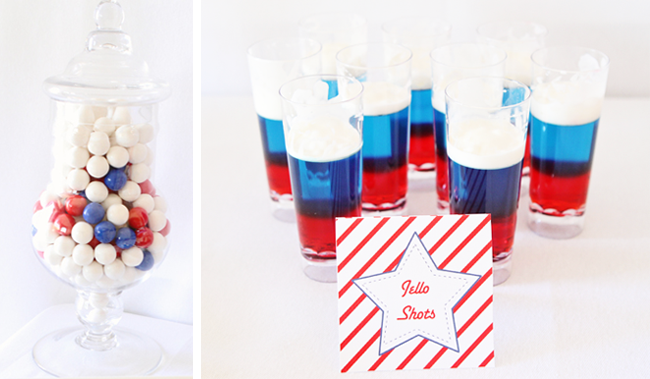 I love to use apothecary jars to decorate parties. You can fill them with anything, and they just make a lovely addition to any party. They also give you some height on your dessert table which adds visual interest. We filled this apothecary jar with giant red, white, and blue gumballs from … ahem … Party City. And we made these patriotic jello shots, and shared the recipe with you a few days ago.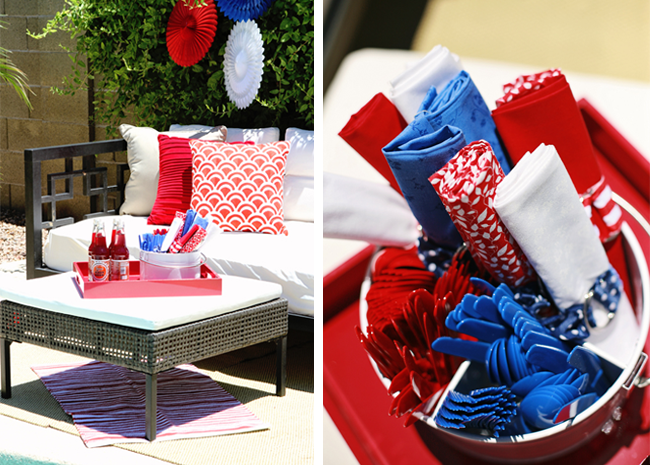 I made these napkins and DIY napkin rings last year. They worked perfectly for this year too! I heart it when I can reuse party supplies … especially ones that I put some DIY work into!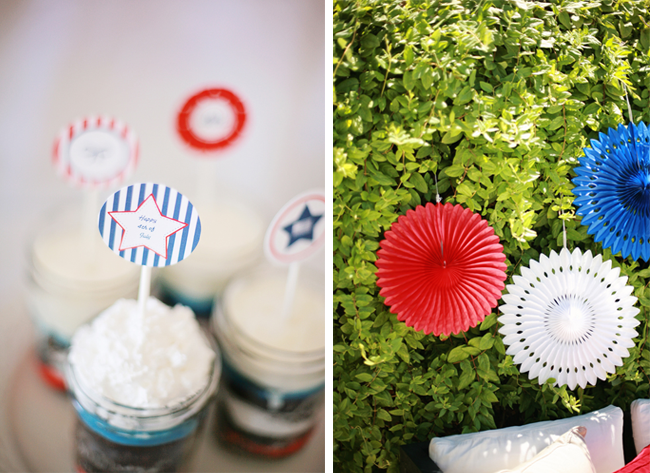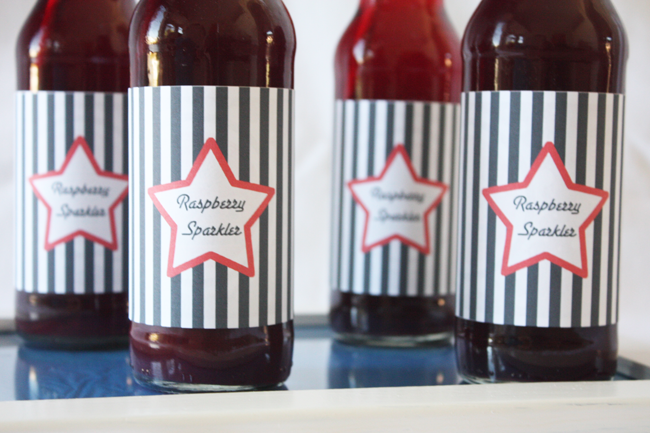 We wrapped the sodas or pop I like to say with some printable soda or water labels, and plopped some drink flags on the straws!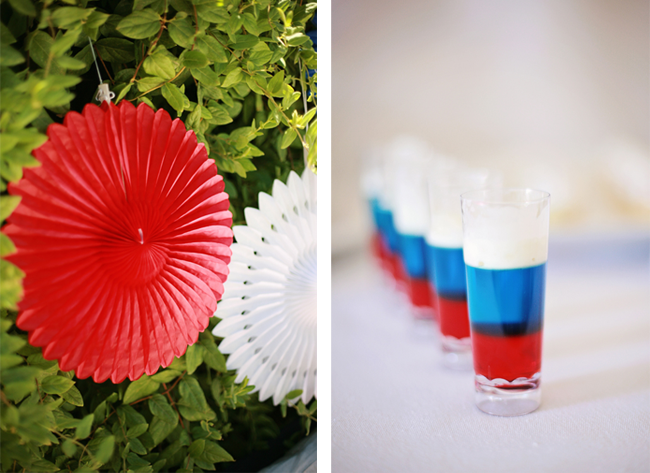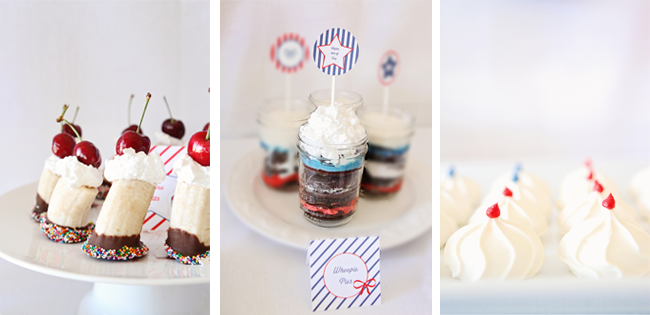 Christa made us sing the star spangled banner with these banana splits she made. These were cute, creative, and delectable … another pinspiration!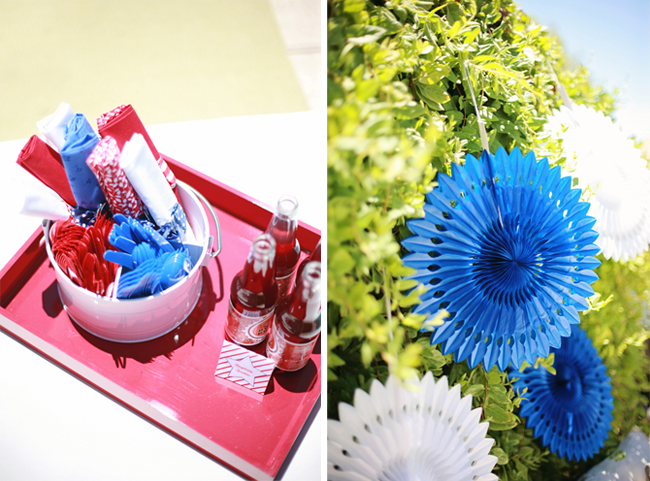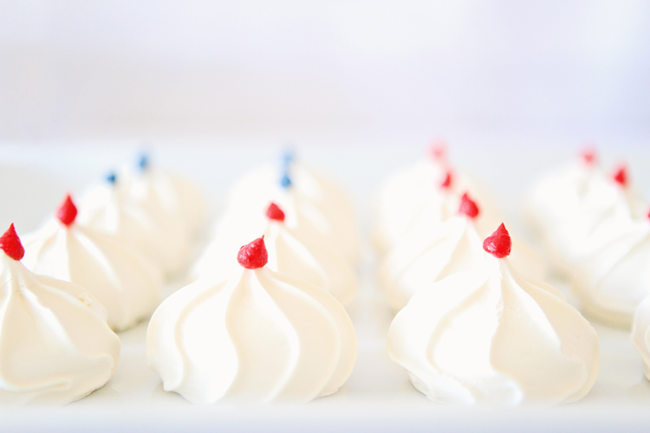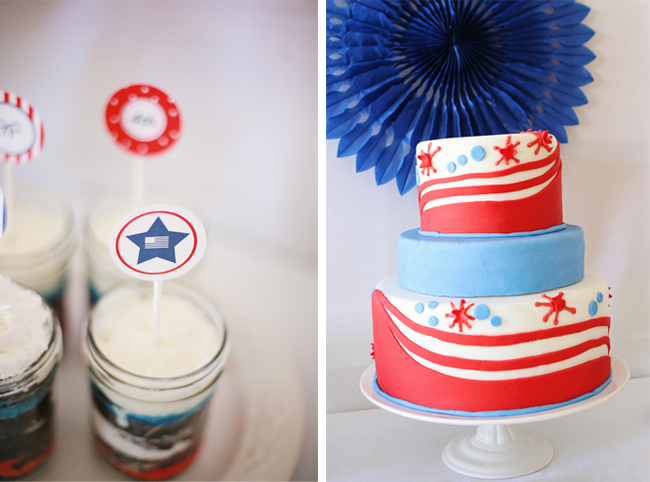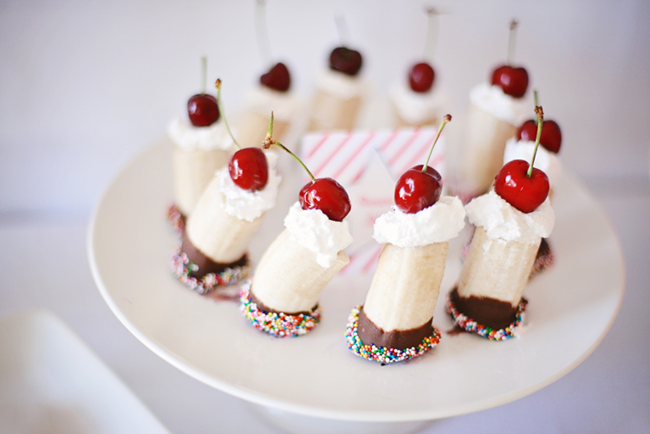 Again, I'm speechless over the cake and banana splits!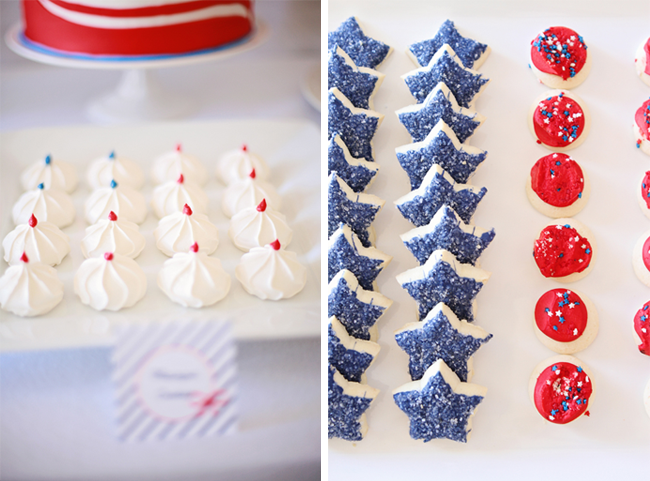 P.S. You can't ever go wrong with sugar cookies and shortbread cookies!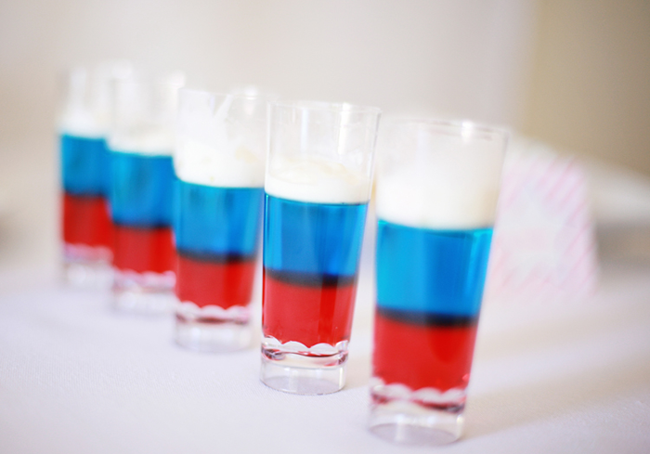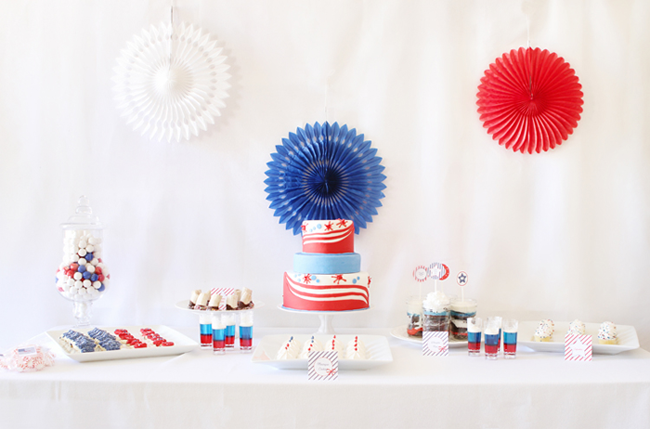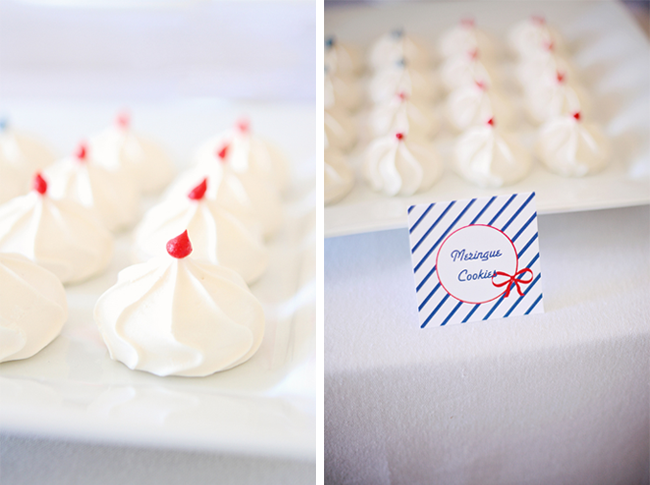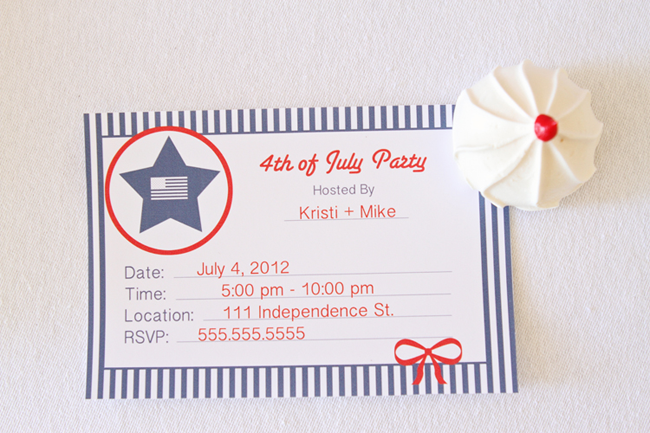 You can fill in these party invites digitally! And no, I don't live on Independence St. That would be a pretty cool address though.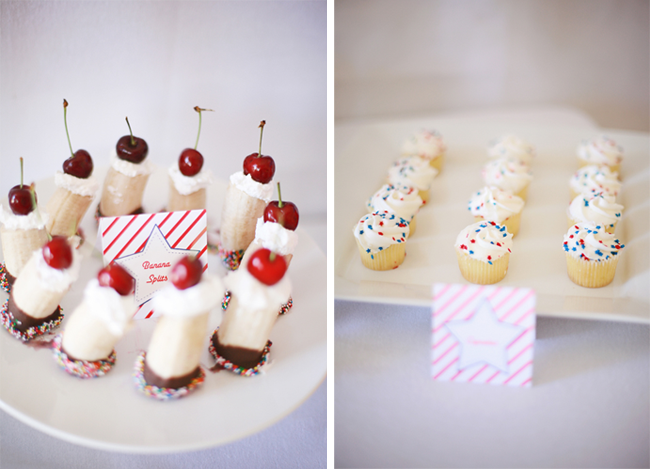 What's a party without mini cupcakes!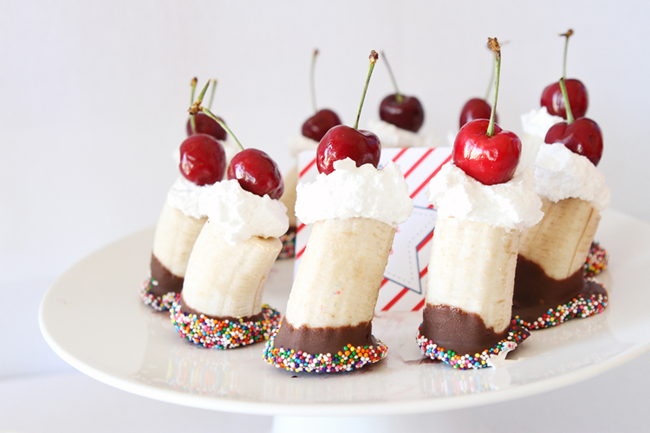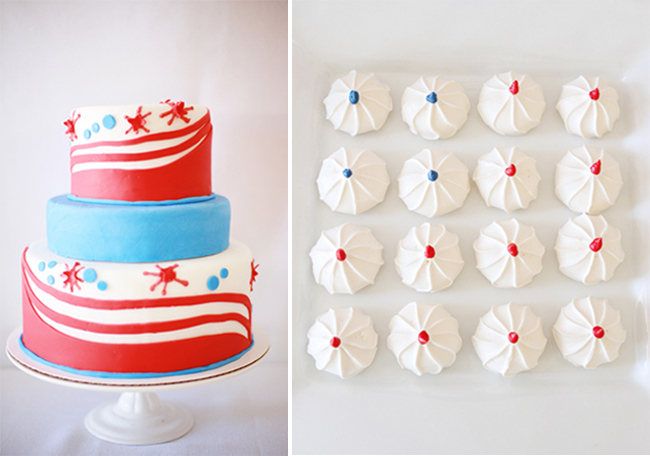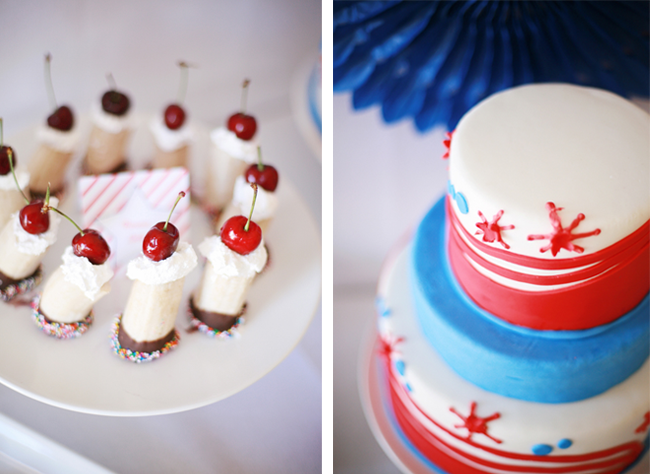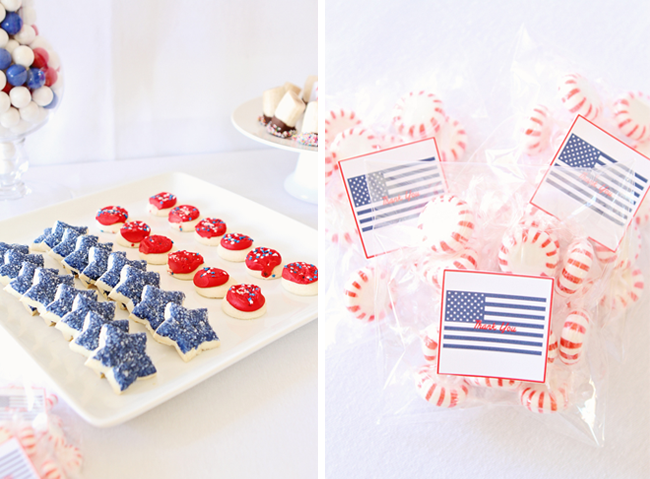 A very easy but perfectly festive way to send your guests home with something is to package up some peppermints into some clear bags with our Thank You sendaway gift tags!
Happy 4th of July Party!
Special thanks to…
Party Styling: SaucyPants
Party Printables: SaucyPants On Etsy or SaucyShop
Amazing Photography: Riso Studio
Delicious Bakes – Cake & Banana Splits: Christa Quiroz
Hanging Flower Medallions: Petite Party Studio
xoxo
Kristi
P.S. You can use the code LOVELAUREN for a 50% discount on all of our printables in the 4th of July collection at our Etsy Shop or on Saucy Pants.
How great was Kristi's post? So creative and we cannot wait to give the little banana splits a try!
Are you going to give any of Kristi's ideas a try? Let us know in the comments below.
XO Team LaurenConrad.com
You might also like…
Style Guide: Fourth of July Fashion
What to Wear: Summer Barbeque
Tripping: Quickie Getaway Essentials