They say life is about the small stuff, and I couldn't agree more. Whether that means finding a pretty flower in your garden, singing in the car all by yourself, or finding one last quarter at the bottom of your purse when you're parking at a meter–it really is all about the little things. In light of these moments, I thought it would be fun to put together a list of my top 10 favorite little extravagancies to relish in…
Breakfast in bed. I get in the habit of setting my alarm clock every day of the week so that I can wake up early and be productive. But once it a while it's nice to turn off my alarm and spend the morning curled up enjoying a little bite in bed.
Pouring lavender oil into a bubble bath. I love lighting candles and soaking in a steamy hot bath when I'm feeling stressed or tense–adding a sweet smelling oil like lavender or jasmine can make this little luxury even more delightful.
Stocking up on luxurious travel-sized goodies. These tiny beauty treasures are the perfect inexpensive additions to any packing list, especially if you love using quality, compact-sized products for traveling. It's a little dose of luxury in 3 ounces or less!
Getting lost in a great new novel (and ignoring my phone). I've always thought that no movie or TV show–no matter how great–can compare to a beautifully written story. There's nothing quite like spending an afternoon enthralled in a fabulous book.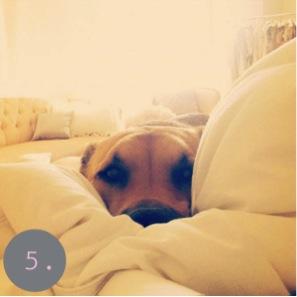 Snuggling in bed with nowhere to go. Starting my morning off on a snuggly note always predicts a great day to come!
Treating myself to just one petite sweet on Fridays. When the last day of the week rolls around, I like to reward myself with a tiny confection or something small that I wouldn't normally indulge in during the week.
Getting my coffee "for here" and not "to go." There's something calming (and oh-so-European) about taking a rushed daily ritual and transforming it into a relaxed moment of reflection.
Indulging in an at-home facial. Too often we don't realize how easy it is to pamper ourselves. I like to do a facial every three months or so to keep my skin happy. Why not brighten up your complexion in no time with my easy 5-step facial.
Buying fresh cut flowers. Flowers are one of those things that are totally unnecessary but so lovely to enjoy. They just make me happy. Whenever possible, I love to buy freshly cut peonies or roses and keep them at my bedside, on my desk and in my kitchen.
Celebrating even the smallest happy moments. After all, what good are little pleasantries if we don't take the time to celebrate them?
What are your favorite little luxuries?
XO Lauren
You might also like…
Beauty Note: Peachy Keen
Photo Diary: My Busy, Crazy Life
Odds & Ends: 5 Flower Arranging Tips
Tuesday Ten: Swimsuit Guide