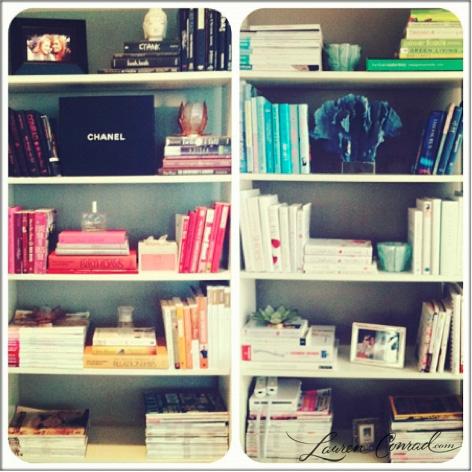 A couple of weeks ago I went on an organizing spree. I did everything from my closets to my cabinets and practically everything in between. There's nothing like putting things in check when you're feeling a little stressed. For me, giving my living space a quick little organizational refresh is like clearing my head and taking a deep breath. Not only does it make me feel good, it makes me less likely to make a mess of things and put them back in the wrong places.
To kick-start my cleaning spree I started with my bookshelves. Usually, my favorite knickknacks, books and random baubles are all mixed up into an orderly hodgepodge of mixed up colors. However, this time I decided to take a different approach. Instead, I organized my shelves according to color. I took all of my blacks, blues and pinks and grouped them together on each shelf. To keep things balanced, I did darker hues on the top and then filtered down to lighter shades. I'm not really one to toot my own horn, but I must say that I'm pretty pleased with the results.
By color-coding my shelves I've breathed new life into an old space–and the best part is I didn't have to spend a penny!
If you're looking to revamp your space on the cheap, I suggest giving this color-coding trick a try. To add some color to your collection, try covering books with bright paper or pretty printed gift-wrap and group accordingly. Or gloss a few of your favorite trinkets with a fun, high gloss paint (check out my Get Glossed DIY on how to give new life to old objects with a little spray-paint).
Color-coding isn't limited to your wall space. I keep lots of things organized in this manner including my clothes, shoes and even my eyeshadows and lipsticks.
Are you going to give your shelves a color-coded update?
If you do, be sure to snap a photograph and upload it to your profile page. I'll feature my favorites in a follow up post.
XO Lauren
P.S. Love home decor? Check out my blog about 5 things you should know about interiror design.
You might also like…
Tuesday Ten: My Summer Beauty Secrets
Odds & Ends: How to Boil an Egg
Shorts of Summer: Brights, Bolds & Basics