If you've ever tried boiling an egg, you probably know that making the perfect hard-boiled egg requires more skill and technique than just throwing an egg in a pot of hot water. In fact, if you practice that method, you could end up with green yolks, tough whites, or the dreaded sulfur scent. Gross. To avoid these eggy fates, follow these simple steps and you can't go wrong:
Start with a saucepan of cold water. Make sure eggs aren't stacked but rather lie in a single layer in the pan.
Over medium heat, bring the water to a rolling boil. Once the water is boiling, remove the pan from heat.
Allow the water to cool enough so that you can comfortably put your hand in the water and then transfer eggs into a large bowl of ice water with a pinch of salt. Let the eggs to cool for about 10 minutes. And voila–perfectly cooked eggs!
If you're feeling a little creative and have a little extra time to cook up your eggs, you can actually bake them. It's a totally out-of-the-box way to make hard-boiled eggs, but it works well (and the shells peel off much easier). Here's how:
Simply place your eggs in a muffin tray to prevent them from rolling or cracking.
Bake them at 350 degrees F for 30 minutes. (I cooked mine at 350 for 30 minutes and they were perfect. However, depending on your oven, you may need to adjust the temperature down to 325.)
Remove from muffin pan using tongs or a spoon and place eggs into a large bowl of ice water with a pinch of salt. Let them soak for about 10 minutes or until they are cool. This makes the shell easier to peel and stops the egg from overcooking.
This method is mess free and incredibly simple. If you ask me, it's pretty much foolproof. One thing to note: When they bake in the oven, they will often develop small spots. You can ignore these.
Here's my most recent batch: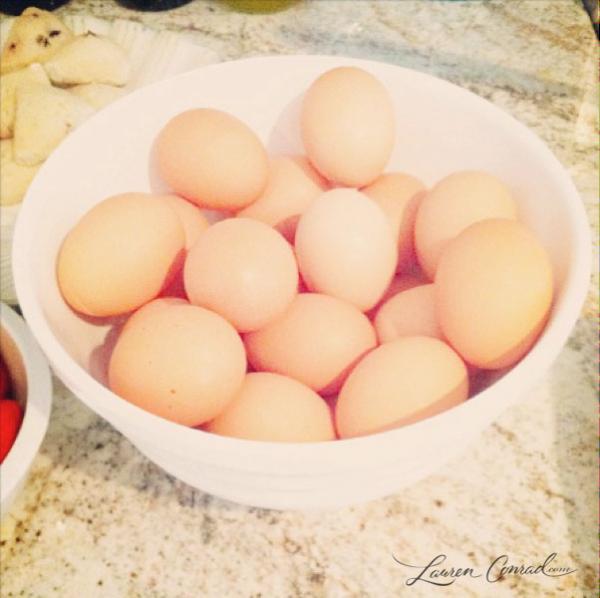 Told you they were foolproof!
Do you have an Odds & Ends blog request? Tell me about it in the comments below!
XO Lauren
You might also like…
Tuesday Ten: Summer Cocktails
Photo Diary: Coffee Dates & More Updates
Fragrance 411: My Favorite Spring Scent
Chic of the Week: Cristolrom's Dotted Mani