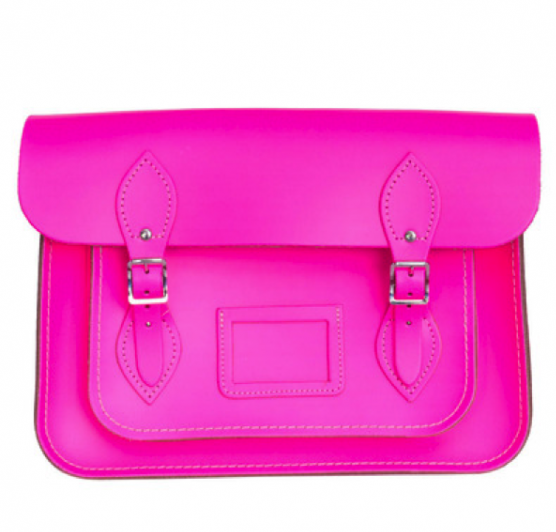 UPDATE: We have our winner! Congrats to Chelsea Hall. We saw the pin on your Pinterest and we hope you enjoy this Cambridge bag!
Congratulations Chelsea! XO

If you consider yourself a fashion blog connoisseur–always up to date on the hottest "It Bag" and must-have shoe, then you're definitely familiar with the omnipresent Cambridge Satchel. But beyond the blogs, I've spotted them everywhere. From New York City's chicest bars to LA's coolest bloggers–the Cambridge Satchel has become a ubiquitous fashion statement. That said, when the company reached out to me to do a giveaway on LaurenConrad.com I couldn't resist…
Get excited because today I am giving away one of 2012's hottest bags: The Fluoro.
Cambridge Satchel's Fluoro bag is brilliant (both literally and stylishly). The bold fluorescent shade is the perfect twist to the classic ladylike shape. It's also sure to complement your summer wardrobe by adding an instant pop of color. You may think that its highlighter hue wouldn't be practical, but this bag will get you through winter as well. It's the perfect piece to offset fall and winter's drab pallette. And for those days when you just don't wanna, throw it over your shoulder with an all-black ensemble for an instantly put-together look. But enough about all the details, let's cut to the chase…
Do you want to win a Cambridge Satchel Fluoro bag?
Here's how to enter:
Pin. Pin the image of the bag above with the phrase: In it to win it. #LCGiveaway
Comment. Leave one comment below with the link to your Pinterest account. (Note: In order to leave a comment and enter this giveaway, you must be a member. It literally takes 1 minute to sign up. Click here to learn how!)
Wait. I will announce the winner on Tuesday, June 19th.
Good luck everyone!
XO Lauren
P.S. Here's the small print about the giveaway…
You must be a registered LaurenConrad.com member to enter. Learn how to sign up by clicking here.
This contest is open to US residents only. Sorry international fans!
Winners will be contacted via private message to their LaurenConrad.com inbox and by email. If our team does not hear back within 24 hours, a new winner will be selected in your place.
Limit one comment per entry. Multiple comment entries will not be considered.
This giveaway ends at midnight PST on Jun 18th 2012.
Cambridge Satchels was kind enough to provide me with the bag to giveaway to you guys! (Thanks so much to everyone at Cambridge Satchels for making this possible!!) This is not a sponsored giveaway in any way.
You might also like…
Picture Perfect: Hang a Wall Collage
Photo Diary: Marriage, Remodels & More
Tinted Love: My Favorite Summer Sunnies
Tuesday Ten: Flat Belly Foods
Source: Cambridge Satchel Company