There are a few key elements that help us determine the difference between a good dress and a great dress: A flattering cut, classic colors and a cool pattern. We also love frocks that can transition effortlessly from cold winter weather to balmy summer nights. Our newest Chic of the Week not only has a great dress but seriously great styling too! Congratulations to Lacy Rose–our newest Chic of the Week!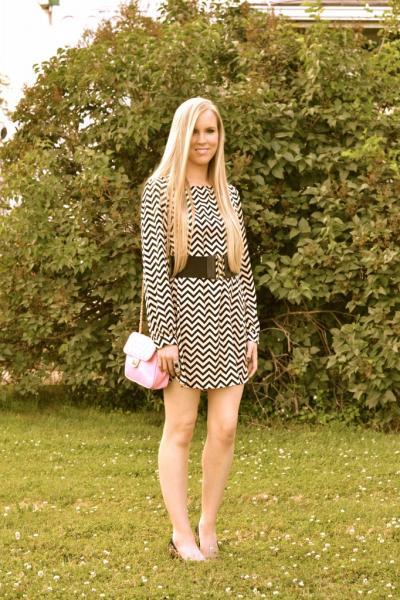 Fashion major Lacy caught our eye with her "Zigzag Chic" sophisticated summer style. To pull off this look, Lacy explained that she combined a black and cream chevron dress, a black Vera Wang belt, Nine West leopard print heels, and a vintage gold-chained pink purse–a very pretty mix, if we do say so ourselves! We were also impressed with Lacy's versatile dress because it can easily be worn during different seasons of the year.
Oh but we're not done with Lacy yet… Not only does she have on-point style, she also bakes! Click here to view her photo album filled with the beautiful confections she's made completely from scratch. Amazing. (Can we have some?)
Congrats to Lacy!
What style are you rocking this summer? Share your photos in the comments below for a chance to be our next Chic of the Week!
XO Team LaurenConrad.com
You might also like…
Gallery Spotlight: Our Fab Members
Style Guide: My Summer Must-Haves
Tuesday Ten: Life's Little Luxuries
Photo Diary: Love Notes & a New 'Do