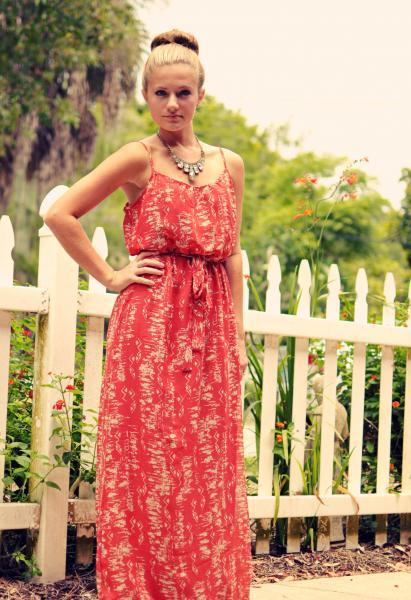 It's no secret that maxis are a must for summertime, and LaurenConrad.com reader Jillian DeBar is a shining example of just why this is true. Her bright and breezy dress is the perfect piece for sunny days and balmy nights. The delicate pattern adds a special touch to the floor-length frock and we just adore the cinched waist, which keeps it flattering and feminine. We're particularly fond of her super cool topknot and eye-catching necklace–tres chic!
Congratulations, Jillian, on being the latest Chic of the Week!
Are you embracing the maxi look this summer? Share photos with us in the comments by uploading to your profile and leaving the link below!
Have a fantastic weekend!
XO Team LaurenConrad.com
You might also like…
Chic of the Week: Alexandra's Striped Style
Chic of the Week: Jaclyn's Neon Knockout
Friday Favorites
Ladylike Laws: The Roommate Rules
Source: laurenconrad.com