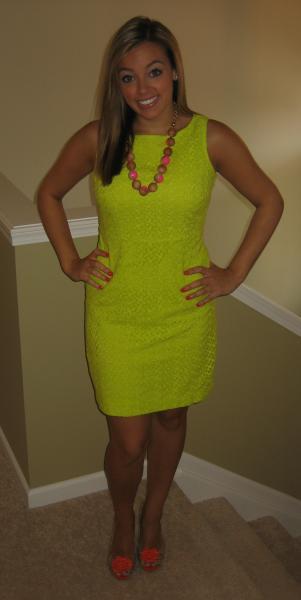 We are total suckers for well-executed neon. We just can't get enough of summer's brightest trend! It's cheerful, it's fun, and it just looks so good with a tan. What's not to love? So when we set our sights on LaurenConrad.com member Jaclyn Schler's neon ensemble, we knew we'd found our weekly dose of Chic…
We love her textured lemony-lime frock paired with punches of tangerine–so playful, yet so polished! This look stands out in all the right ways, so congratulations, Jaclyn, on being this week's Chic of the Week!
Is there a summer trend that you're excited to wear? Show us your summer style in the comments below by uploading a photo and leaving the link below.
Have a fabulous weekend everyone!
XO Team LaurenConrad.com
You might also like…
Ladylike Laws: The Roommate Rules
Tuesday Ten: Flat Belly Foods
Chic of the Week: Alexandra's Striped Style
Friday Favorites

Source: Laurenconrad.com