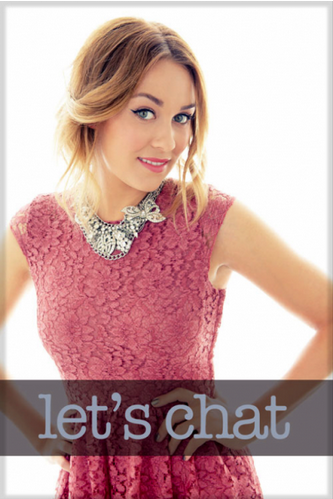 I hope everyone is as excited as I am because my very first live video chat is about to start! At exactly 4pm PST / 7pm EST, I will be chatting directly with all of you about our current LaurenConrad.com Book Club read, The Fame Game, for 20 minutes. I'll be answering your questions and revealing a few exciting tidbits about some of the characters as well.
When you join the chat, there are a few important things you need to do in order to participate…
Join! Create a Spreecast account. It's very easy, it's free and it only takes less than one minute to sign up.
Login. Click "Sign In" at the top of the video screen or click "Create Account" if you don't already have one.
RSVP. Click the "RSVP" button on the left of the video box to let everyone know your chatting with me.
Leave your questions. To have a question featured on the video screen during the chat, click the "Comment or Question?" button on the bottom right of the video screen. You can start leaving questions now before I go on camera.
Have fun! Be sure to follow the link at the bottom of this post so you can join my live video chat. See you there!
Remember to include #LCLiveChat if you tweet during the chat and would like your tweet to show up on the Twitter feed below the video screen. (I can see this Twitter feed too, so I may pull a few questions from Twitter as well. So tweet away!)
Looking forward to chatting with all of you!
CLICK HERE TO JOIN MY LIVE VIDEO CHAT
XO Lauren
You might also like…
Friday Favorites
Book Club: The Fame Game Q&A
The Fame Game: My Official Book Tour
The Fame Game: Exciting Pre-Order News!