Mother's Day is less than two weeks away (it's on Sunday, May 13th). Translation: It's time to start thinking about what you're going to do for your mom on her special day. While some may argue that Mother's Day is just another "Hallmark holiday," I beg to differ. I think it is the perfect excuse to show your mother how much you love and appreciate her. Whether you present her with a thoughtful gift or make her something special–it's the thought that counts. At the end of the day, moms just want a little love and recognition. When I lived at home, I used to surprise my mother with breakfast in bed or I would cook her dinner. Now that I'm out of the nest, we usually do a family brunch and I get her a little something special. Seeing as many of you probably have Mother's Day on your mind, I thought I would put together a little gift guide…
Here are ten sweet and simple gifts you can give your mother on her special day: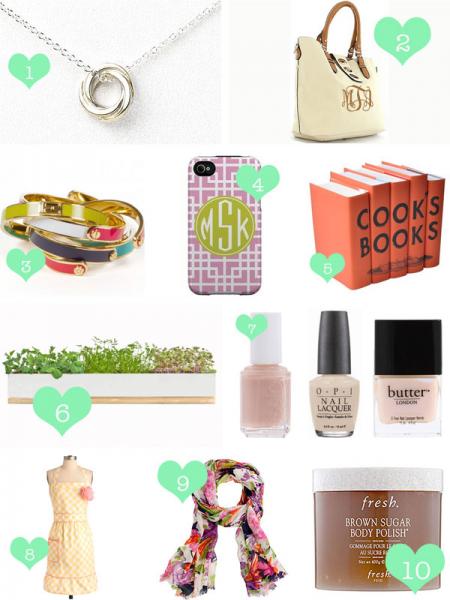 Love Knot Necklace… for a little extra sparkle.
Monogrammed Buckle Shoulder Bag… for the mom on the go.
Enamel Initial Cuff… for a stylish statement.
Monogram Cellphone Cases… because personalized is always better.
Cook's Books Set… or better yet, sign up for a cooking class together.
MicroGreens Windowsill Grow Box… for the mother who loves to cook.
Gift Certificate for a Mani/Pedi… so she can be queen for a day.
ModClotch Apron… to stay chic, even in the kitchen.
Printed Summer Scarf… the perfect addition to her spring wardrobe.
Brown Sugar Body Polish… for a touch of luxury.
Do you have any creative Mother's Day DIY gift ideas? If so, share them in the comments below. My team will spotlight the best ideas in a follow up post next week!
XO Lauren
P.S. Don't forget to install the "Pin It" button into your toolbar so you can pin things from my blog posts!


You might also like…
Bits & Baubles: My Coffee Table
Ladylike Laws: To Hug or Not to Hug?
Chic of the Week: Jacy's Easy Breezy Look
Friday Favorites