This recipe is from our friends at Martha Stewart Living. Once a month we'll share our favorite Martha Stewart Living recipe here on LaurenConrad.com for all of you to try. Today's recipe is a good old American dish that's perfect for breakfast (especially Sunday mornings). Enjoy and happy cooking!
Blueberry Buttermilk Flapjacks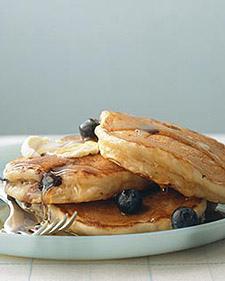 Serves 10
Ingredients
1 3/4 cups all-purpose flour
3 1/2 tablespoons sugar
1 tablespoon baking powder
1/2 teaspoon coarse salt
1 1/2 cups buttermilk
2 large eggs, room temperature
1 teaspoon pure vanilla extract
1 tablespoon butter, melted, plus more, softened, for skillet and serving
2 tablespoons plus 2 teaspoons vegetable oil
1 cup blueberries, plus more for garnish
Pure maple syrup, for serving
Directions
Sift together flour, sugar, baking powder, and salt. Whisk together buttermilk, eggs, vanilla, 1 tablespoon butter, and 2 tablespoons oil; whisk into flour mixture. Fold in blueberries. Set batter aside.
Heat 1/2 teaspoon butter and remaining 2 teaspoons oil in a large nonstick skillet over medium heat. Pour in 1/3 cup batter. Cook until small bubbles form, about 3 minutes. Flip; cook until golden brown, about 3 minutes. Repeat with remaining batter, adding butter as needed. Serve with butter and syrup; garnish with berries.
Are you going to give this recipe a try? Also, what's your favorite topping for pancakes?
Special thanks to Martha Stewart Living for sharing this fabulous recipe with us today!
XO Team LaurenConrad.com
P.S. We noticed that many of you are wondering what the difference is between a flapjack and a pancake… A flapjack is generally thicker than a traditional pancake, but in the end it is actually still a pancake! How's that for a fun fact?
You might also like…
Recipe Box: Make-Ahead Chicken Wraps
Sweet Tooth: Sparkly Lemon Cookies
Edible Obsessions: Pumpkin Pie Bites
Slim Tip: Surviving the Snack Attack
Source: Martha Stewart Living, April 2005