We love a prim and preppy look for daytime, which is why we adore member Simmy P's cursory combination of the two in this winning workday ensemble.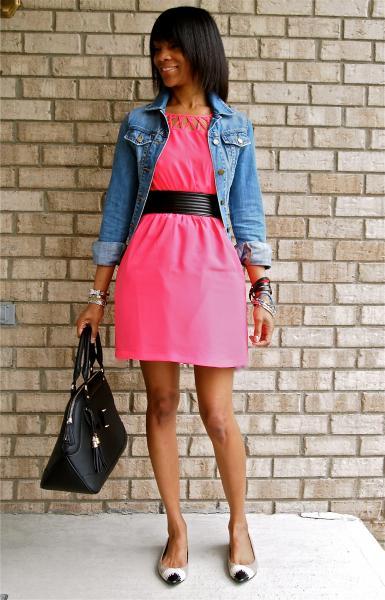 We love that she perfected the rosy frock with delightful details–the neutral toned flats, paired with the structured tote and belt give the look a clean, polished look; the stacked bangles and jean jacket keep it young and fresh. And don't even get us started on her adorable cap-toe flats. She gives new meaning to pretty in pink!
Judging by her photos, Simmy's an old pro when it comes to dressing her best. Check out her other looks here. We are so thrilled to dub her this week's Chic of the Week! Congratulations, Simmy!
What's your favorite daytime look for spring? Show us the sunny ensembles you're wearing these days by uploading a photo and leaving the link in the comments below.
Have a fun weekend!
XO Team LaurenConrad.com
You might also like…
Dress Coding: Bridal Shower Attire
Friday Favorites
Photo Diary: Sparkly Distractions & NYC
Style Guide: What to Wear to Prom