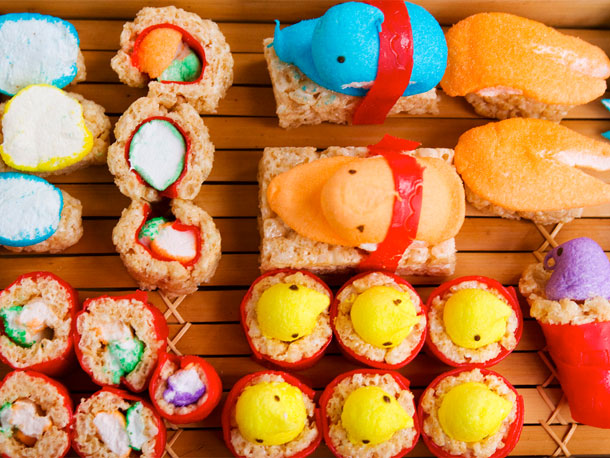 Whether you're celebrating Easter this Sunday or just the fact that it's spring, these "Peepshi" treats are the perfect sweet for nearly any occasion (but especially Easter).
Personally, I love sushi. It's my absolute favorite food next to pizza. So when I came across this recipe, I felt like I hit the jackpot (because I really love sweets too).
Here are instructions with step-by-step images on how to make these adorable sushi inspired "Peepshi" rolls courtesy of SeriousEats. Enjoy!

Ingredients
6 Peeps per roll, 1 Peer per handroll, 1 Peep per nigiri
1 box of Rice Krispies Treats
1 box of Fruit by the Foot
Directions
1. Slice one Rice Krispies Treat into 6 thin lengthwise slices.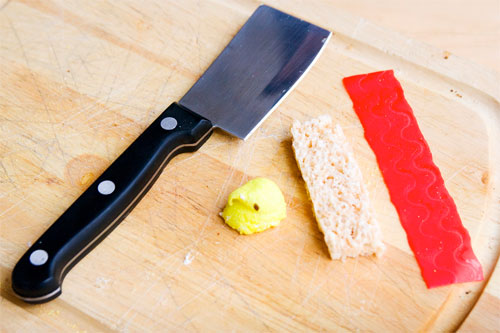 2. I know this is going to be rough, but decapitate 6 Peeps of your color choice. In other words, cut off the heads (but try to keep a little of the neck–you will see why later).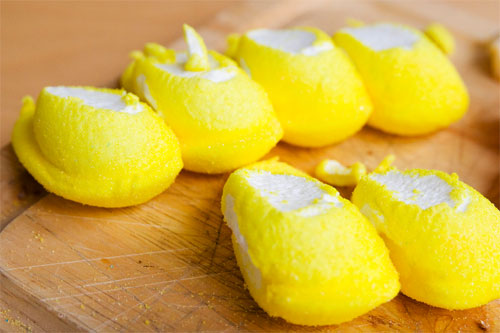 3. Portion out a length of Fruit by the Foot into smaller sections slightly longer than the Rice Krispies Treat slice.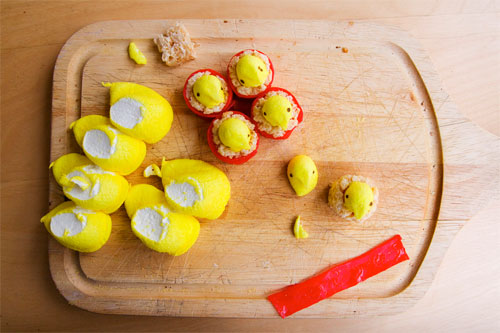 4. Flatten and elongate the Rice Krispies Treat slice slightly and shape it into a hollow circle. It's okay if it breaks; just mold it back together again.
5. Take a Peep head and tuck it into the top of the hollow Rice Krisipies Treat cylinder. Use a toothpick or the tip of a knife to help it get snug.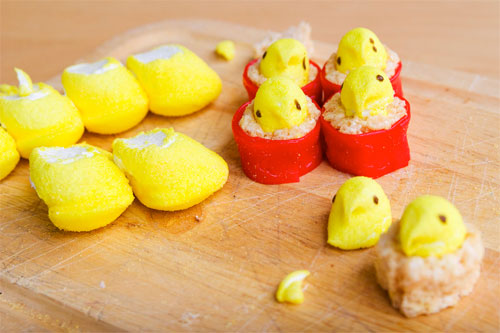 6. Wrap the Fruit by the Foot strip around your roll. Some folding and nipping may be necessary to get the cleanest look.
7. Serve at room temperature.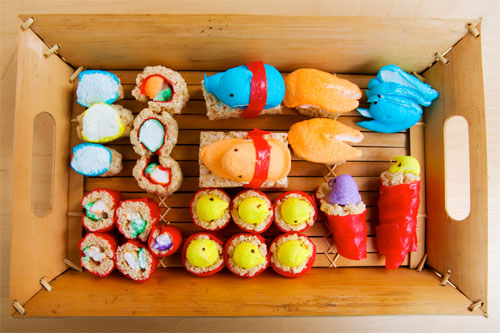 If you have a creative spring inspired treat recipe, share it in the comments below or upload your recipe to your profile page and click "Submit" so I can add it to the Dine Gallery for everyone to see!
XO Lauren
P.S. Be sure to check out the tutorial for my other favorite Peep treat… Peep Kebobs (pictured below)!