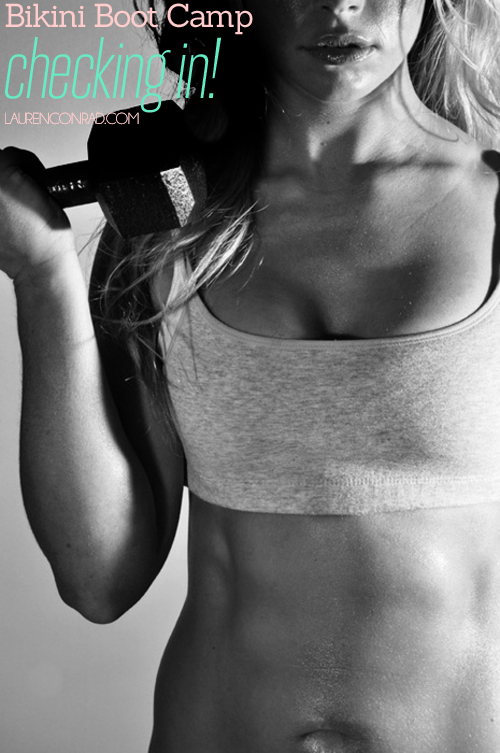 It's been about three weeks since we started Bikini Boot Camp, and I decided it was about time to check in with you and see how it's going!
You might remember a few of these questions from last year, but I'm dying to know…
What has been the hardest part about Boot Camp so far? 
What's your favorite workout?
Do you have any tips for staying on track?
Are you seeing and feeling the results yet?
It takes about two weeks to make a habit that sticks, so hopefully your exercise and diet routine is starting to feel easy and effortless. But if you feel like you want to give up, it's helpful to get motivated and feel refreshed. When I'm having a hard time staying on track, I like to try a new workout (swap yoga for Zumba or running for spinning). If you need some ideas, you can check out my health and fitness sections for more workouts and healthy tips. Also, be sure to check out my Get Fit board on Pinterest.
I have also found that writing out my fitness goals gets me motivated when I'm in a slump. Sit down and reflect upon the reasons why you wanted to start Boot Camp in the first place. Then write out your reasons on a piece of paper and hang them somewhere that you will see them every day—like your bathroom mirror.
In the spirit of keeping things fresh, I have some new ways to challenge yourself and track your progress:
I can't wait to hear your feedback! Let me know how it's going in the comments below.
XO Lauren