This story is from our partner, FabSugar! Twice a month we'll share FabSugar's best fashion tips and shopping guides. Today's post teaches you how to dress for a first date written by Brittney Stephens of FabSugar:
5 First Date Outfits that Will Give You Butterflies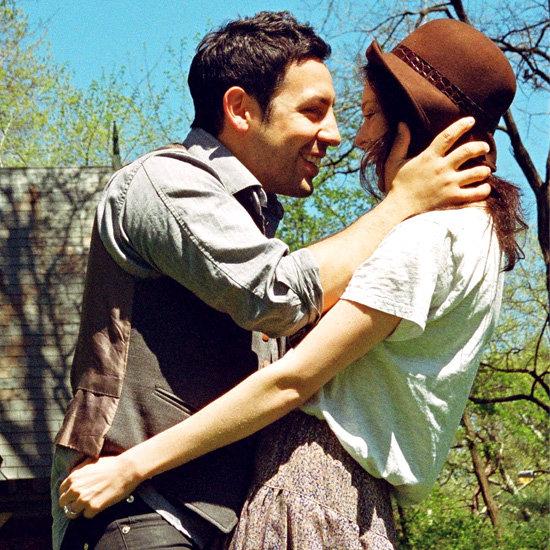 A first date is one of those typical occurrences that leave you standing in front of your closet, scratching your head. You've gotten asked out, and now it's time to find the perfect outfit – no easy feat, considering you've only got one chance to make a first impression, right? We've put together five stylish ensembles for various first-date scenarios, so whether you end up at a five-star restaurant or playing a few rounds of pool at your neighborhood dive, you're sure to look your absolute best. Click through to see (and shop!) each look.
First Date: Movie in the Park
Let's face it – movies may not be the most original or advantageous of first dates, but they happen (all too often). A great alternative to the ordinary dinner-and-a-movie is seeing a flick being shown in a park. You get to experience the great outdoors, and there's a much better chance of getting cold and snuggling up to your date. Keep in mind, you'll be sitting on a blanket, so opt for skinny jeans in a dark wash, a pretty printed tank, and a lightweight sweater, just in case. Pack some snacks in a durable tote, and add a pair of comfy yet superstylish sneakers. Avoid: High heels, skirts, and bringing your nicest, most expensive handbag.

First Date: Upscale Eatery
When the date calls for a fancy restaurant, turn things up a notch in a subtly sexy fitted dress and printed envelope clutch. Bold, statement-making earrings will keep his attention, ahem, upward, and a cute, lightweight trench will make for a great reveal. A pair of spiky peep-toe heels does wonders to elongate your legs, but don't go any higher than you're comfortable with – the last thing you need is a face-plant on arrival. Avoid: Tights, oversized handbags, and talking about your ex at the table.


Check Out Look of the Day: Style for All Seasons
First Date: Miniature Golfing
Mini golf always makes for a great daytime date: you get to look cute and laid-back, which makes kicking his ass on the course even sweeter. Stay chic and comfortable in a tribal-cool romper, then throw on a neutral pair of flat sandals and a fun straw hat for sun protection. Opt for a leather crossbody bag so you can stay hands-free. Avoid: Too-high heels, tons of bangles, and fussy shoulder bags.


First Date: Art Show
Nothing says downtown polish like a slick leather skirt – and if you're headed to an art show on your date, you'll want to look put-together but with a bit of an edge. A wispy-thin top would look great tucked in or out, and the twist front on this tee lends a bit of sex appeal. Keep your accessories simple, with a pretty statement choker and shoulder bag. Art shows usually mean free booze, so choose a menswear-chic loafer instead of heels – it'll look much more laid-back and confident. Avoid: Leather jackets, stilettos, and overdoing the bubbly.


First Date: Dive Bar
So you're heading to a dimly lit bar to shoot some pool, play some darts, and put another song on the jukebox (baby). You want to look low-maintenance and fun, not super girlie and overdone. Show your feminine side with a pair of fitted wide-leg jeans and a bright semisheer tank, then add a tougher edge with a black leather jacket and architectural wedge booties. Avoid: Miniskirts, cleavage, and not knowing the difference between Buffalo Springfield and Dusty Springfield.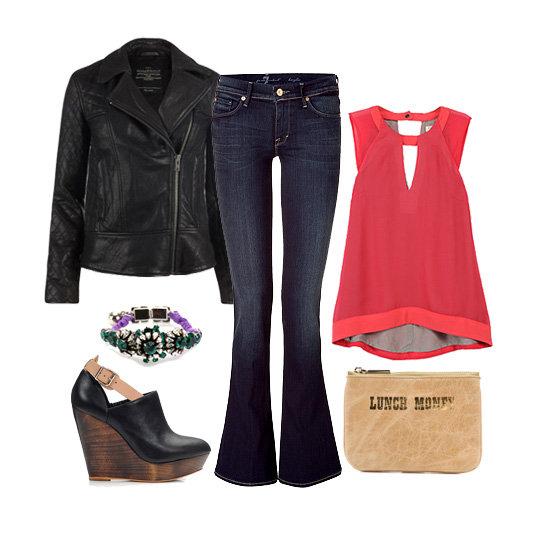 Which look is your favorite?
XO Team LC
Photo: Coco Rocha

More fab stories from FabSugar…
How to Organize Shoes in Style
We Revisit the School Girl Classics with a Cool Girl Twist
Take a Load Off: 14 Book Bag Options that Won't Break Your Back
Back to School Basics – 16 Essentials, 17 Ways to Style Them